About Wireless Sensor Network Kit ( Scientech 2311W v2.0 V):
Wireless Sensor Network (WSN) research has enabled large scale monitoring using small Sensors with radio links. The technological advance in wireless communications and microelectronics has enabled the development of small, low-cost Sensor Nodes. Wireless Sensor Networks are developed to organize and control these Sensor Nodes, which have sensing, data processing, communication and control capabilities. Information collected from these Sensor Nodes is routed to a sink Node via wireless communication approach. The research in the Wireless Sensor Network has focused primarily on the networks issues such as routing, data dissemination and aggregation of co-related data for downstream data delivery. The combination of small size, low cost and wireless networking functionality makes Wireless Sensor Network (WSN) technology exceptionally scalable.
Scientech 2311W v2.0 Wireless Sensor Network
will help users to design their own WSN network and also help them to understand the overall concept & its applications.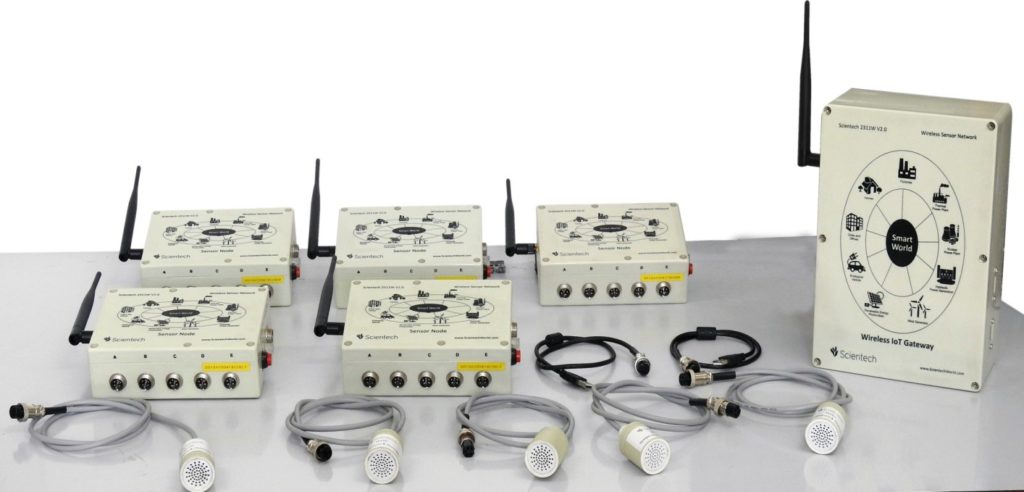 Sensor nodes and sensors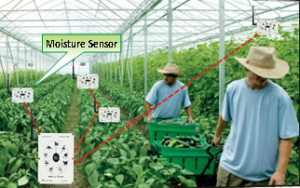 Agricultural Monitoring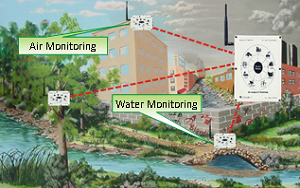 Environmental Monitoring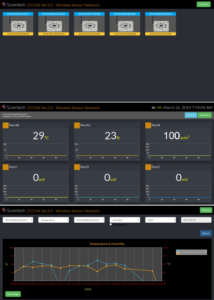 Analysis Windows
Scope of Learning:
Understanding Wireless Sensor Network Scientech 2311W V2.0
Understand the concept of Wireless Sensor Network.
Learn different network topologies like – Point to Point – Star – Mesh
Study Sensors and their circuit diagram.
Interface analog / digital signaling of Sensors.
Learn Graphical analysis of analog / digital Sensors. Scope of Learning
Routing algorithm
Learn to configure End Device and Router.
Study End Device parameters like – Sleep period – Sensor scan time – PAN ID – Baud Rate
Interfacing using Arduino, python and c programming
Device Features:
Wireless Network using Zigbee protocol.
Easy to configure. • ISM band 2.4 GHz operation
Data collection from End Device & rely to coordinator using Router.
Six analog input and 4 digital input/ output connector on each Node.
Status indicators like Data Transmission battery charging.
Possible network combinations – point to point, star, mesh.
Battery charging via USB cable.
Node configuration connector.
Easy to install. • Reconfigurable
Protocol design • Reprogrammable
Software Features:
Live data table and simultaneous graph plotting of all six Sensors of particular Node.
Live monitoring and graph plotting of battery voltages of all connected Nodes.
Data logging facility over MySQL database.
Data search facility with resolution option, viz data/minute, data/hour or data/day.
Apply formula to Sensor data to plot desired parameter
Modem configuration feature so that user can configure Node parameters like baud rate, sleep time, PAN ID, destination address etc.
Sensor Lab (Scientech 2311):
Scientech TechBooks are compact and user friendly learning platforms to provide a modern, portable, comprehensive and practical way to learn Technology. Each TechBook is provided with detailed Multimedia learning material which covers basic theory, step by step procedure to conduct the experiment and other useful information. Scientech 2311 Sensor Lab comprises of sensors and transducers which provide the fundamental knowledge of sensing light, pressure, temperature, IR and many more non electrical entities. Since, most of the sensors give signal which show small variation and are of low level output, these signals need to be converted into a form that is measurable and could be used efficiently. The lab consists of various signal conditioning blocks which perform amplification, filtration, signal conditioning and all the required operations which are acceptable to the input devices. 7″ capacitive touch screen LCD is inbuilt for output device with easy to use instructions and graphical user interface, to display waveforms, to plot characteristics with the help of graphs, for reading operating manual and watching tutorials. Sensor Lab is a standalone TechBook. It does not require external Oscilloscope for measuring, or observing the output and characteristics of the sensors interfaced.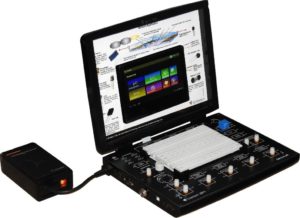 Sensor Lab (Scientech 2311)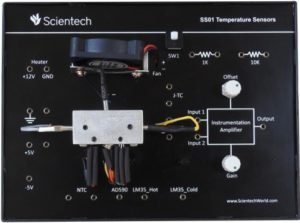 SS01 Temperature Sensors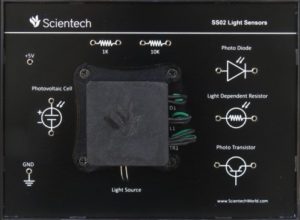 SS02 Light Sensors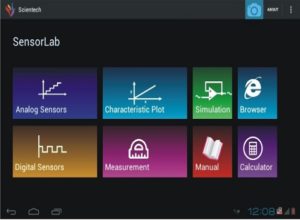 Software home page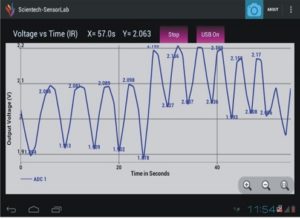 Characteristics plot
Scope of Learning:
Learn the detailed fundamentals of signal conditioning
Learn in-depth study of sensors and it's circuit diagram
Learn how automation can implement using sensors and actuators
Testing and understanding graph of various sensors for light intensity like photo diode, photo transistor, photo voltaic cell and LDR, temperature like NTC thermistor, platinum RTD, K and J type thermocouple, AD590 and LM35
Observe the sensor real time graph using PC based software
Sensors data logging using PC based software
Fault finding to types of signal conditioning and sensors
Testing, fault f inding of sensor and understanding graph of IR sensor like L14G1 and Characteristics of other sensor modules
Testing and understanding the working of amplifiers like inverting amplifier, non inverting amplifier, differential amplifier, instrumentation amplifier, current amplifier
Testing and understanding the working of filters like high pass filter and low pass filter
Testing and understanding the working of types of and converters like frequency to voltage and voltage to frequency converter, current to voltage and voltage to current converter
Study of output blocks like LED, buzzer, relay and LED bar graph
Features:
IoT enabled Android based 7" Graphical touch LCD with inbuilt cortex processor & DAQ for acquiring analog data and software for viewing the output waveforms, reading the operating manual, tutorial, video etc, with USB storage and HDMI Ethernet port to connect real world
Inverting, non-inverting, power, current, instrumentation and differential amplifier, buffer, frequency to voltage,  voltage to frequency, current to voltage, voltage to current converter, high pass and low lass filter, buffer, LED, buzzer, relay, square wave generator
Inbuilt DAQ
User can design any circuit on breadboard and test
Standalone TechBook
USB port for keyboard and pen drive interface
Ethernet port to connect with real world
HDMI port
PC interface
Data logging in .csv format
Ethernet connectivity for remote view application (supported operating system: windows / linux)
Online update / USB update
On board graph capture and store
Office tools are inbuilt to view PDF and doc files
Scientific calculator
On board circuit simulation